6 Benefits of Outsourcing Customer Service - RUI
November 23, 2021 •Andrew Reiter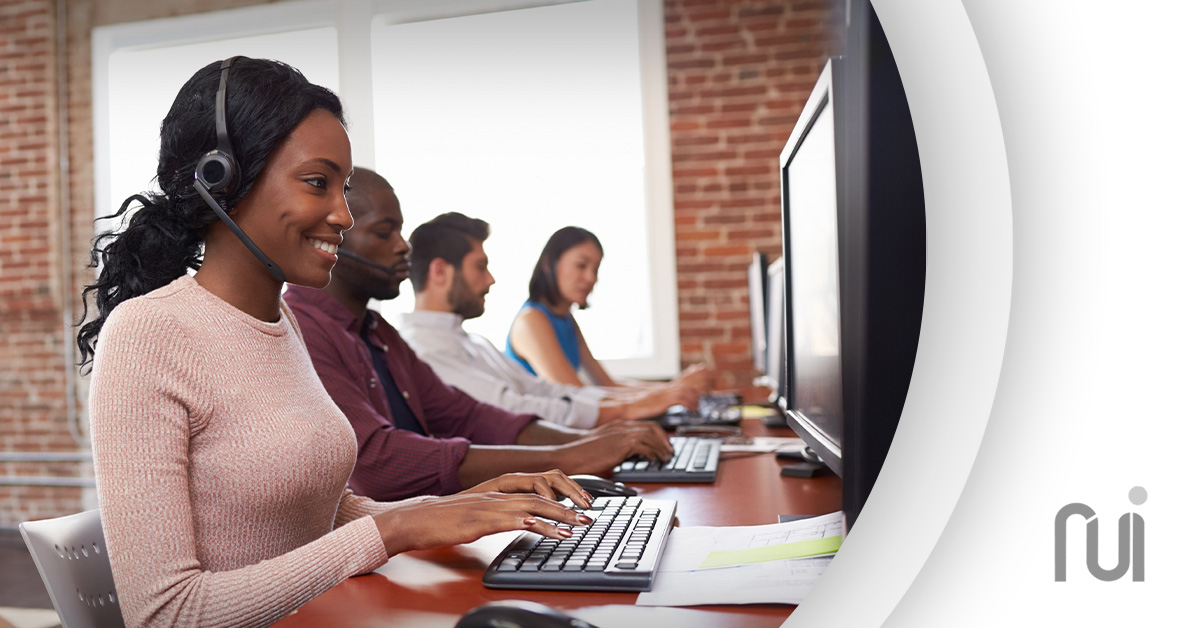 Now more than ever, customers want more from their brands, and they expect you to meet their needs on all channels. Since your business success depends on your customer experience, it's important to deliver positive experiences. One very important decision for business executives is whether to outsource customer service, or keep it in-house.
Each has its own advantages. While in-house keeps support under closer management, outsourcing customer service enables a scalable and turnkey solution.
There are many compelling reasons to outsource customer service operations. Here are six benefits to outsource customer service.
1. Turnkey efficiency
One of the biggest reasons businesses outsource is to save time and resources. Many businesses find that it's significantly more cost-effective to outsource customer service compared to hiring and onboarding internal staff. Customer service providers reduce expensive contact center set-up and hiring, reducing overhead costs. They also achieve business goals, like lower average handling time and increase first-call resolution.
Managing cost doesn't always mean outsourcing to the cheapest, off-shore provider and sacrificing perception of quality. Finding a reputable BPO helps you efficiently build best-in-class customer experience and processes at scale.
2. Scaling and flexibility
In today's rapidly evolving landscape, it is increasingly difficult and costly to hire, train, and manage customer service agents. Third party customer support providers give you the ability to quickly scale your operations for long-term growth or seasonal surges.
Whether your business is growing or decreasing in size, an outsourcing company provides the agility and infrastructure to meet your changing needs. Customer relations outsourcing also provides you the redundancy to rest easy and stay always-on during emergencies like outages or inclement weather.
3. Contact center experts and quality assurance
Professional support agents have the expertise to provide exceptional customer experiences, and subsequently ensure your competitive advantage. Professional outsourcing providers offer specialized industry knowledge, diverse technical expertise, multi-lingual agents, and best-in-class processes to align with your operations.
All interactions are recorded, stored, and reviewed for coaching purposes and continuous process improvement.
4. Improve customer experience and loyalty
The most common argument for keeping customer support in-house is keeping a personal touch. However, without a dedicated team, many businesses struggle to keep up with support queues as stressed employees juggle many tasks.
There are many ways to outsource customer service without compromising quality. In fact, since customer experience is not your core competency as a business, switching to a BPO can significantly improve customer satisfaction and retention. With the right training, outsourced support agents align with your brand and understand your customers for frictionless issue resolution.
5. Refocus core competencies
Take pressure off your administrative tasks by letting a BPO handle the minute details. By outsourcing customer care, give your team the chance to focus on priorities like critical day-to-day operations and important growth opportunities.
Customer service providers take care of hiring, training, and managing customer service teams, so you don't have to.
6. Reporting and tracking
Generally, customer support providers provide real-time insights and can provide daily, weekly, monthly, or quarterly reporting. Tracking and reporting are tailored to the client, so you can control report scheduling.
At RUI, our expert consultants use contact center technology and analytics to help you every step of the way. We condense and understand data to refine your customer experiences and process efficiencies.
Pick the right partner for customer care
There are many pros to outsourcing customer support. Still, outsourcing customer support services can feel like you're handing the keys to someone else, which is why it's important to research and decide on the right partner to align with your brand, needs, and goals.
Customer service providers like RUI offer omnichannel solutions, like call, email, and live chat. Whether you're struggling to meet your support queue or looking to improve customer retention, outsourcing customer support to a high-quality BPO can help you grow your business.
Get in touch to learn how we can outsource your customer service.