5 Customer Experience Trends You Should Watch for 2023
February 16, 2023 •Andrew Reiter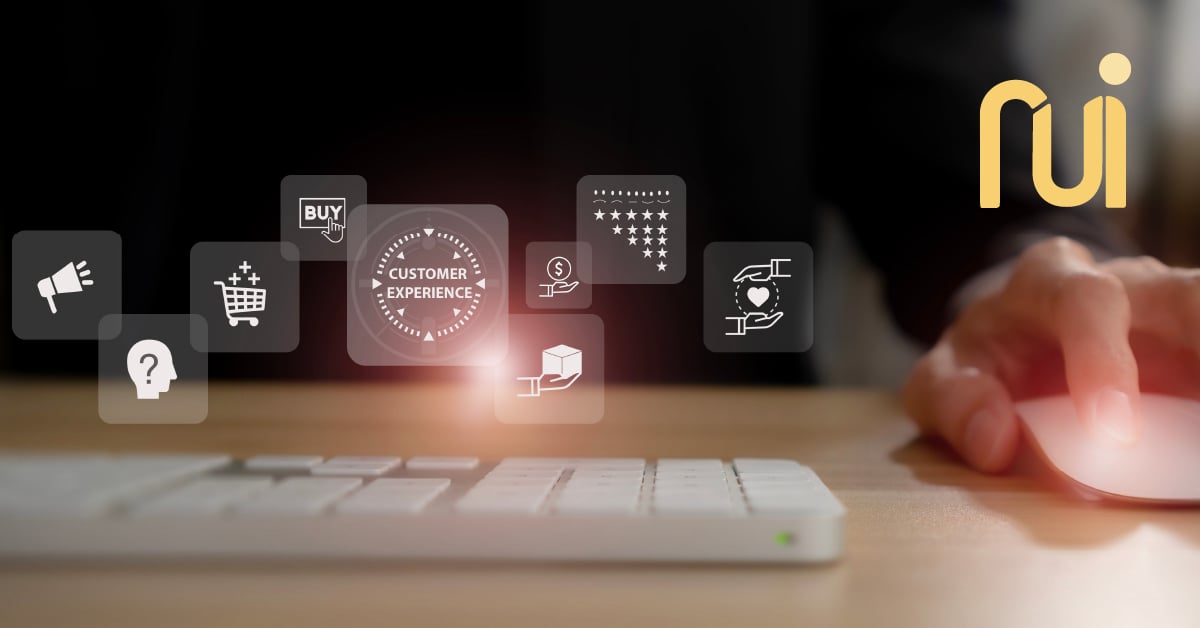 In a fast-paced, increasingly digitized world, customer expectations are always evolving. That means your customer experience strategy is more crucial than ever and can easily make or break your business. At RUI, we're always looking for ways to empower brands. Based on our research, here are five CX trends to implement in 2023.
1. Seamless, Omnichannel Customer Experiences
It's no secret that maintaining a strong brand presence across both physical and digital channels is imperative to success. However, having an active social media presence and email marketing strategy is only half the battle—now, customers expect a seamless, consistent feel and experience on all fronts.
Multichannel vs. Omnichannel
Here's one way to think of it: you may have a stellar social presence, active email campaigns, and an amazing website, but that doesn't necessarily mean you're creating an omnichannel experience for your customers.
In an omnichannel experience, the customer should be able to migrate between channels and receive consistent, cohesive messaging. Furthermore, research shows that customers are increasingly expecting to be able to take an issue across channels and pick up where they left off.
When evaluating your CX strategy for the rest of the year, consider syncing your data across some or all of your channels. Not only will this support a positive customer experience but it will also create an efficient way for your team to track progress.
2. Stronger, Thoughtful Personalization
According to a 2022 Statista report, 60% of surveyed shoppers are turned off by unpersonalized, generic content when it comes to one-on-one communication, such as email, text, or calls.
While personalization is by no means a novel concept, customers expect more than the automated birthday emails. Customers want brands to anticipate their needs. For example, customers are more likely to continue purchasing from a brand if you offer product recommendations based on their past purchases.
In order to keep up with the competition, brands are looking for creative ways to build lasting relationships with their customers. Understanding the customer journey is key to knowing exactly where your customers need personalized attention.
3. Transparency Throughout the Customer Journey
Now more than ever, businesses are expected to build relationships with their customers, rather than just transactions… and the key to any lasting relationship is trust.
Whether it's communicating a price's entirety (shipping costs, processing fees), providing helpful product data, or keeping customers informed on issue resolution, creating transparency shows your audience that you don't take their attention or loyalty for granted. Having a customer support team that is responsive and available is an easy way to ensure that you're there for your customers.
One of the most important ways to maintain transparency is to be upfront with how you use your customers' data. When training your customer service and technical support teams, be sure that your agents are able to address any issues or concerns over data security.
4. Predictive Analytics
One of the biggest trends in CX strategy involves how brands are looking at data. Traditional analysis methods utilize past events to understand the customer journey. While these practices are still imperative to an effective CX strategy, marketing teams are starting to use predictive analytics to inform their decisions.
Predictive analytics use data to forecast consumer behavior and anticipate what customers want… before they know they want it. Additionally, predictive analysis can help you tap into new market opportunities, expand revenue within your existing customer base, and even identify customers that are the hardest to keep.
Here's an example of predictive analytics in action: knowing exactly how long your product lasts before it needs to be repaired or replaced allows you to nurture your customer within that time period so that they are more likely to make a repeat purchase. This could involve utilizing a skilled sales team to reactivate interest.
Another example would be identifying which parts of the customer journey are usually the most difficult for prospective customers to complete and move closer to conversion. If you know that a customer typically gets cold feet right after they've already shown a healthy amount of interest, maybe your CX strategy involves incentivizing them with a special offer or highly-personalized outreach from your team. Predictive analytics are all about getting ahead of the game.
5. Empathy and Connection in Customer Service
Since the pandemic, the need for human connection continues to reappear across all aspects of life, especially when it comes to customer-brand interactions. Overall, people want to be treated as humans, not as ticket numbers or transactions.
In 2023, the most successful brands will be the ones that seek opportunities to build relationships and foster human connections with their audience.
For customer experience teams, terms such as "connection" and "relationships" can sometimes feel like buzzwords. However, incorporating a human element into your CX strategy doesn't always mean undoing your entire framework. It could involve small but meaningful changes, like ensuring that your chatbot uses friendly, conversational language and following up on AI-resolved issues with a thoughtful email.

One of the biggest ways to drive connection in your customer experience could also be challenging the way your brand sees your customers. Are customer satisfaction metrics a priority or are your goals centered only around revenue? Do your customer service leaders teach positivity and patience when handling customer interactions?
Stay on Top of Your CX Strategy
Customer expectations are always evolving. At RUI, we know that providing the best customer experience involves constant research, implementation, and optimization. That's why we're here to be your guide every step of the way. If you're ready to level up your customer experience strategy, connect with us today!